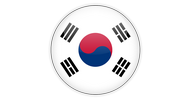 The National Radio Research Agency (RRA) has published "Notification on Conformity Assessment of Broadcasting and Communication Equipment" (Notice No. 2017-14) on 5th Dec 2017.
The major change is on identification code of the certification number where part of the approval number "MSIP" was changed to "R", with effect from 5th Dec 2017.
Either "MSIP" or "R" can be used until transition period ends on 30th Jun 2018.
However, products that are approved before 5th Dec 2017 are unaffected and can continue to use "MSIP" and its existing certification number.
New labeling format:
R
–
C
R
M
–
A
B
C
–
X
X
X
X
X
X
X
X
X
X
X
X
X
X
①
②
③
④
⑤
⑥
Identification code of Broadcasting Communication Equipment
Identification code of basic certification information

Applicant Identification Code
Product identification