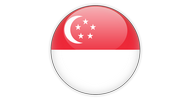 IMDA in Singapore has initiated a public consultation on 5G Mobile Services and Networks. IMDA is hoping to identify the bands that will be suitable for 5G deployments and the regulatory changes that may be necessary to facilitate 5G roll out.
---
Full details of the public consultation are available from here. Comments should be submitted to IMDA by 12 noon, 7 July 2017.
It has also been announced that Singapore will waive airwave fees for 5G trials until December 31, 2019, as reported here.