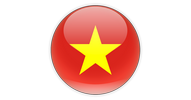 MIC Vietnam has released Circular 46/2016/TT-BTTTT to update the list of license-free frequency bands for radio devices.  The Circular  46/2016/TT-BTTTT will take effect from 14 February 2017 and replace Circular 03/2012/TT- BTTTT.
Changes include:
Detailed definition for each device class.
Regulation on inductive loop devices.
Regulation on wireless audio devices.
Regulation on devices with operating frequency up to 246 GHz including Automotive radars and UWB devices
Raise maximum RF output power allowed of WLAN 2.4 GHz devices up to 200mW.