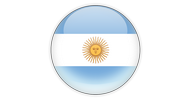 ENACOM has published Resolution 8957/2016 that allocates the 24.05 to 24.25GHz band for automotive radar (radio localization). The band band can be used in-vehicle or for roadside infrastructure.
This band will be allocated for Radio Localization services on a secondary basis and will be license-free.
---
The same band can now also be used for fixed services using point-to-point links with high gain directional antennas.
This band is also allocated to Radio Fixed Service on a secondary basis.