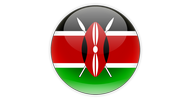 The Communications Authority of Kenya has published guidelines for the use of Short Range Devices on a license-exempt basis. Such devices are also exempt from type approval. This includes some of the bands used by Bluetooth and WLAN devices.
This includes the bands:
2400-2483.5 MHz

Wideband Wireless Systems. WAS/RLANs

100mW eirp

No duty cycle

No channel spacing

EN 300 328

EN 301 489-1,17

EN 60950

CEPT/ERC/REC 70-03

Adequate spectrum sharing mechanism

(e.g. Listen-before-Talk, Detect-And-Avoid) shall be implemented by the equipment

5150-5350 MHz

Wireless Access Systems/Radio Local Access Network (WAS & RLAN)

indoor use only.

200mW EIRP

Dynamic Frequency Selection (DFS) & Transmitter Power control (TPC)

Modulation schemes obligatory

EN 300 836-1

EN 301 893

EN 301 489-1,17

EN 60950

ITU-R M.1625

Rec. ITU-R M.1450-4,

Resolution 229 (Rev.WRC-12)

WAS- indoor use 200mW Max EIRP

Density of 10mW/MHz in any 1 MHz

(=0.25mW/25 kHz in any 25 kHz band),

Must employ TPC at least 3dB and DFS.
However, earlier guidelines are still in force for WLAN that allow some extra 5GHz bands. Devices that operate in accordance with these rules still require type approval:
| | | |
| --- | --- | --- |
| Frequency Band (MHz) | Maximum Equivalent Isotropically Radiated Power (EIRP) | Power spectral density |
| 2400-2483.5 | 100mW | 10mW/MHz |
| 5150-5250 | 200mW | 10mW/MHz |
| 5470-5570 | 1W | 50mW/MHz |
| 5725-5775 | 200mW | 10mW/MHz |